Well folks, I'm back, not better than ever, but alive. I know you were worried, thanks for sending the kind notes of concern… jk no one sent notes. It's almost like you didn't even notice I was gone?? The blog has taken a back seat these last few months, apologies for that. Life's been crazy, you know, global pandemics and sh**.
I've wanted to get a COVID-19 post out to you for weeks, but I just couldn't seem to wrap my head around what to write. The world is so full of new information right now, coming in at light speed. The news is like a dumpster fire, you just can't look away from all the chaos. And social media isn't much better. I mean, at least Instagram has some cute dog pictures and funny memes between stories of death and economic collapse. I just wasn't sure what sort of information, education or opinion I wanted to send out to you all during this trying time.
I have had incredibly heightened anxiety and stress in the past month (shocking, I know). And didn't want to transfer any of that worry and panic onto you, my lovely readers. So, I just didn't write anything at all. You know, toddler style, "nope, not gonna do it" arms crossed, pouty faced. I let myself wallow in fear and sadness for about 10 days, until finally kicking myself in the a** and getting it together. Then it came to me, while running over lunch today, maybe some of you are feeling this same way? Maybe what everyone needs, is the same stuff I needed? Maybe you all want to hear, just as much as I did, some thoughts and strategies for combating anxiety and fear during the COVID-19 era?
Who else struggles with anxiety?? No one, just me? Ok, well for the sake of this post, I'm going to pretend at least a few of you also find yourselves a little more on edge than normal right now…. picture me breathing in and out of a paper bag between patients and then going home and eating All the carbs and wine, so much wine…. Turns out, a global pandemic is really stressful. Not just for those of us in healthcare, but for everyone. And believe it or not, most of us, myself included turn to alllll the unhealthy coping mechanisms in times of this much stress. (cue the wine train, toot toot)
The future is uncertain, heck the present is uncertain, and with all this uncertainty comes fear and anxiety. We are all wondering what will be left of our lives when this is over. Will we have jobs to come back to? Restaurants to visit? Friends and family to hug? How can we navigate these incredibly murky waters and come out the other side without it turning into an episode of "Intervention" or "My 600 Pound Life"…. cause lets be honest, if this quarantine lasts much longer I'm going to need some sort of reality show to get my crap back together.
My 5 Strategies for Dealing with Anxiety – COVID19 style
#1 – Journaling – Start by writing down what you are going through and end with gratitude.
Journal writing can be incredibly therapeutic, and in times like these really helpful at illuminating just what exactly is eating you up inside. Starting a journal is a great way to get some of that anxiety out of your head, and record for posterity sake. Set out with the intention of writing out your feelings and having a cool diary to look back on in 20 years. Start with some "I feel" and "I wish" statements and just go wherever your brain takes you, maybe 5-10 minutes per day. Its ok to vent and complain a little in here, but at the end of each journal entry, finish with a gratitude statement. It can be 1-5 things that you are thankful for in these hard times. Little things, like funny memes, the smell of coffee, or that you've managed to keep your office plant alive! Just writing them down will instantly lift your mood, and it also sets the intention for the day, encouraging you to look for the good and positive in the world.
#2 – Exercise – Get your body moving every day to melt away the anxiety.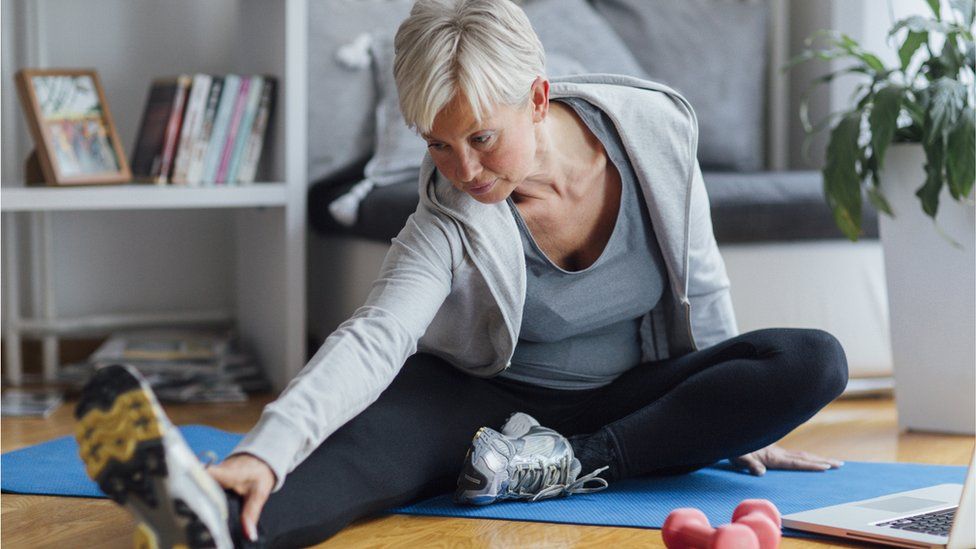 Exercise, in all of its forms, is an incredible stress buster. I'm sure you are picturing me doing some kick a** high intensity interval training, punching bags and roundhouse kicks included! Hopefully I look better in your imagination than I do in real life. But seriously, moving your body, in any way you can, will squelch your anxiety on the spot. I love me some good cardio and strength training, but you can make this into whatever your ability level allows. A brisk walk in the sunshine, sit ups and push ups on the living room floor, or a quiet yoga session after the babies go to bed can be incredibly rejuvenating. Almost every major gym in the country, and many home fitness companies are offering Free in-home trials right now. Yes Free! And most of their workouts require little, or no gym equipment. You literally have no excuses. So get out there and move!
#3 – Create Community – Find ways to virtually connect with your people.
Its pretty tricky in the era of social distancing to feel connected to others. But it is vital we find ways to make it happen. Humans are innately social beings, meant to live in community and in relationships. Thankfully, in 2020, there are more options than ever for connecting with your friends and family using technology. Pick your favorite video chat platform, and set up some dates, happy hours, book club meetings, virtual "teachers lounge" for all of us newly appointed home-school parents, whatever floats your boat. And here is the most important part, you have to hold each other to it. How many times have you said to a friend, "we should really get together soon" knowing full well you won't see that person for months. So set a date and time, make it a regular thing, and make those human connections.
#4 – Meditation – Use some mindfulness techniques to help clear your brain of stress and worry.
Meditation is an amazing tool for clearing your mind and letting go of some of the anxious thoughts you are carrying around. Like my friend once said, "Inhale the peace and exhale the bullsh**" In this COVID-19 era, there is so much crap that we can't control, and our minds are filled with endless fear loops, worst case scenarios and unhelpful shame spirals. Using some form or meditation or prayer to let go of these things we can't change or control, can be incredibly helpful. Remember sleep? Yes, sleep! I know, I've been missing it too. But 5-20 minute nightly meditations, using any of the popular apps on your smart phone, can allow your brain to get some much needed rest and rejuvenation.
#5 – Set Goals – Put your time and nervous energy to good use to accomplish something you can be proud of.
With all this time at home in self isolation its easy to lose sight of our goals and let ourselves get pretty complacent. (This is your daily reminder to get out of your night time sweat pants and put on some day time sweat pants.) Setting some short and long term goals is a great way to stay on track and focus your anxiety towards something positive. Start with setting a schedule and routine. Wake up to your alarm, get ready for the day, like actually shower and put on clothes, and keep regular business hours for working on productive tasks. Maybe now is a great time to tackle your meal planning for the next few months, or organize those photos into scrapbooks. Start the novel you've always dreamed of writing, or set a goal to run a half marathon and use this time to train. If you are suddenly homeschooling 3 wild honey badgers, maybe its just a goal to drink more water than coffee in the day? You are going to need a routine, and daily goals to get through this without becoming an alcoholic or gaining 20 pounds of Hostess Cupcakes. Maybe that's just me?
I've compiled a short list of some of my favorite resources right now. These are apps, tools and websites I have found really helpful at combating my stress, calming my anxiety, and setting my intentions and goals for the next few months. (I make no money promoting these apps and sites, but if they'd like to pay off my student loans, that'd be great.) Remember, this stress is not infinite, things will get better! Life may never go back to the way it was, but you will find a new normal. So commit to making your new life even better than it was before!
Some resources for you.
This blog should not be used as medical advice, if you have concerning symptoms you should talk to your own family doctor. Dr. Hathaway offers this information without any commercial bias or disclosures.