OK Friends! Its time for Book Club!!! The next book on my list is a great read to start your year off right and get motivated for some personal growth! Time to lock up the pity party, throw away the excuses and start living your best life! — This months selection is "Girl Wash Your Face" by Rachel Hollis.
"Stop believing the lies about who you are, so you can become who you were meant to be."
A neighbor lent me this book when I was pregnant with my third baby, wallowing in mom guilt and self pitty, and I can honestly say it has been a life-changer for me. Rachel Hollis is a fire breathing, truth bomb dropping, bad ass mom-boss, with an almost magical ability to kick you in the ass while simultaneously holding your hand and crying with you like your best girlfriend would.
It has become a New York Times bestseller and has been translated into more languages than I can count. The book catapulted Rachel Hollis and the Hollis Co. to new heights, spawned 4 podcasts, two more books, an empire of personal and professional development conferences, life coaching program and the "Start Today" brand now available at Target. Check them out at https://thehollisco.com
In the book she walks you through 20 lies that we have all told ourselves, and dispels them one by one, freeing you from the negativity and opening your heart to a better way of living!
Here is a sneak peak at the Table of Contents. I can honestly say "Me too" for 19/20 of these, (I've never wanted to marry Matt Damon, more of a Jason Momoa girl myself)
Introduction: Hey girl, hey!
The lie: Something else will make me happy
The lie: I'll start tomorrow
The lie: I'm not good enough
The lie: I'm better than you
The lie: Loving him is enough for me
The lie: No is the final answer
The lie: I'm bad at sex
The lie: I don't know how to be a mom
The lie: I'm not a good mom
The lie: I should be further along by now
The lie: Other people's kids are so much cleaner/better organized/more polite
The lie: I need to make myself smaller
The lie: I'm going to marry Matt Damon
The lie: I'm a terrible writer
The lie: I will never get past this
The lie: I can't tell the truth
The lie: I am defined by my weight
The lie: I need a drink
The lie: There's only one right way to be
The lie: I need a hero.
"Life is not supposed to overwhelm you at all times. Life isn't meant to be merely survived–it's meant to be lived"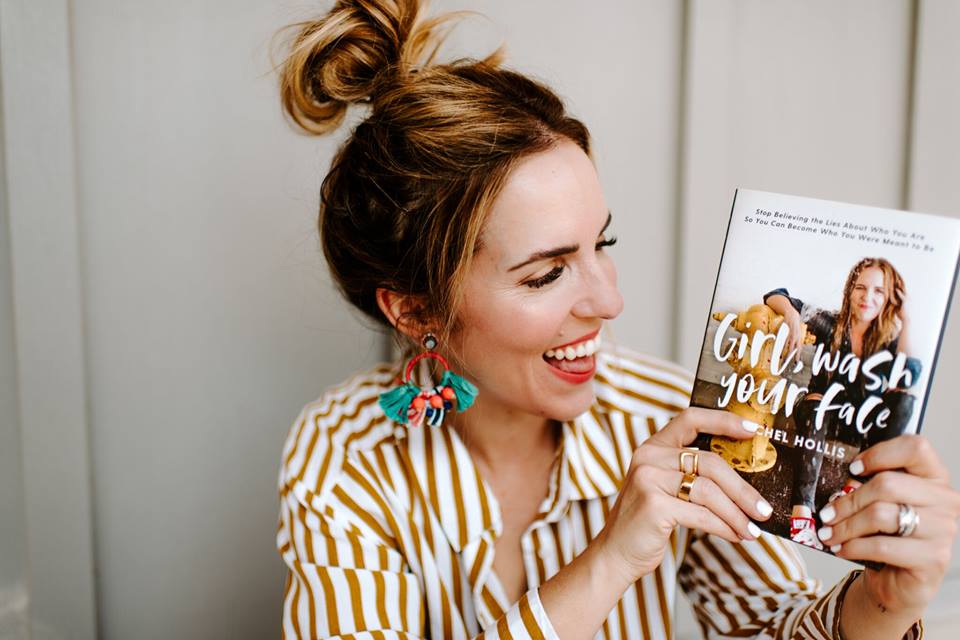 I just love her positive attitude and growth mindset. She will convince you to take charge of your life and gives you tactical tools to make it better. Its not just a bunch of sunshine and roses, she spells out that having a great life is hard work, but worth it, and that you can literally do anything as long as you put your mind to it.
"Someone else's opinion of you is none of your business."
One of the best take-away's from the book is to stop giving so much weight to other peoples opinions! I am a self proclaimed "People Pleaser" and am crippled by the thought that someone might not like me or approve of my decisions. She convinced me to Stop trying to be like every body else, Stop mirroring my parenting style after some random person on Facebook that looks like they have it all figured out, and start living My life for Me!
Probably the most important thing that I have incorporated into my life since reading this book, and her follow up book, and subscribing to her Podcasts (yes I drank the Rachel Hollis Cool-Aid hard core and I have the blue raspberry mustache to prove it) is the practice of Gratitude.
''You must choose to be happy, grateful, and fulfilled. If you make that choice every single day, regardless of where you are or what's happening, you will be happy.''
I write in my Start Today gratitude journal nearly every day, and in times of struggle and frustration I try to always pull myself back to what I am thankful for, what has brightened my day, what makes me smile. Honestly, it has made me a better wife and mom, and I'm sure a better friend and co-worker as well.
So go check it out from your local library, get it on audio book, or borrow it from a friend. Just get your hands on a copy some how, any way you can. Maybe listen to it in the car on your way to your in-laws, and convince 2-3 of your friends to read it with you, because believe me, you are going to want/need people to debrief all these life changing truth bombs with!
This is not an add. I have no personal affiliation to Rachel Hollis or the Hollis Co, and make no money recommending their products, but if they'd like to throw some cash towards my student loans, that'd be great 😉